21st of May, 2013.
After 16 months of battling planners/councillors/wildlife consultants/tree preservation-at-all-cost people, we have finally begun work.
Two weeks of soft demolition will follow.  Today, we checked for bats and, would you believe, after two surveys and £000s of expenditure, we found……..not one bloody bat!!!!!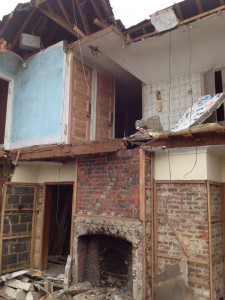 As can be seen from the above photo of the lounge fireplace, and the below video, soft demolition has been replaced with hard !!!
6 June and the house has gone..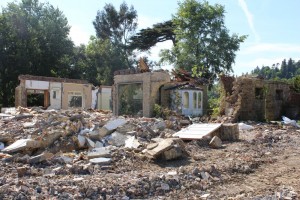 My birthday – piling is underway.  There are 62 piles to be sunk 10 metres into the clay.  The Piler asks me whether our house will be 6 or 7 stories high!!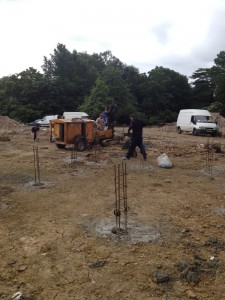 July 2013 – one of the hottest for years and the trenches are dry and awaiting their concrete.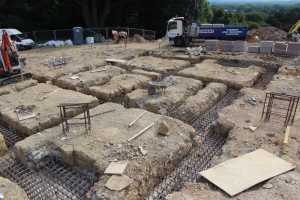 18 july – the trenches are filled with 4 lorry loads of concrete.  The driver asks me if we are building a hotel!!!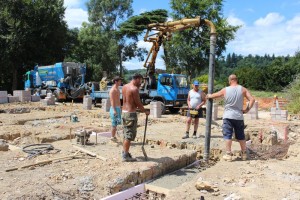 7 August 2013 and the footings are all in, waiting for the beam and block floor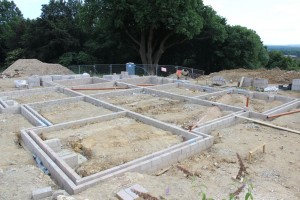 W/C  12 August – the beams, some over 5m in length, are craned into position and we are now officially above ground.  We are one week behind schedule, despite almost perfect weather.
Onwards……
September 25th – our wedding anniversary – and the first floor goes on.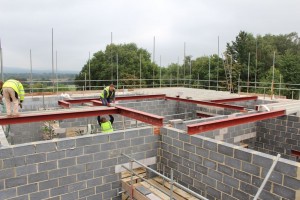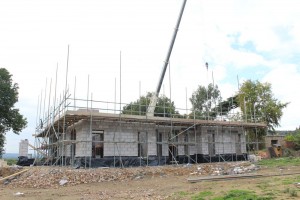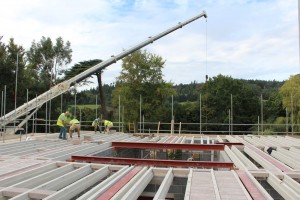 Upwards…!!!
Mid October – the first floor is nearly finished and downstairs, rooms are beginning to take shape.
We are meanwhile choosing floor stone, marble columns, kitchens, bathrooms, plaster moulding, balcony railings et al et al et al!
It's all go.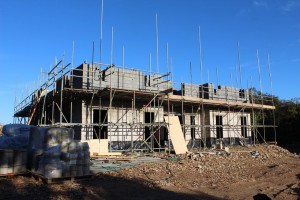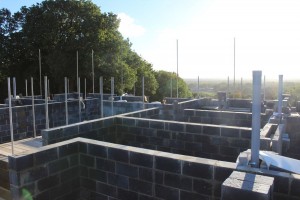 This (below)  is our works foreman, Graham, constructing one of the 4 chimneys.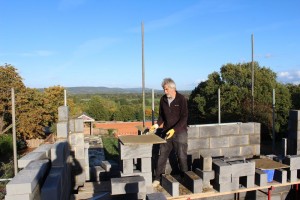 Inside, the fireplaces are taking shape.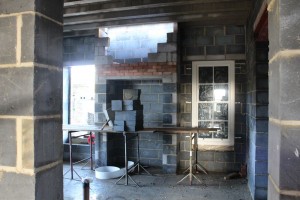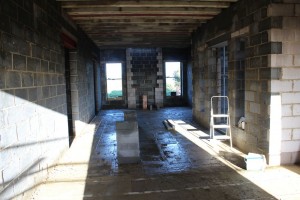 Tuesday 12 November 2013 – the roof trusses arrive and are craned up.  Soon, a roof structure begins to appear.
[youtube]jNo4eFp-Ck4[/youtube]
The third photo below shows the central atrium structure being built – to be topped off by a glazed pyramid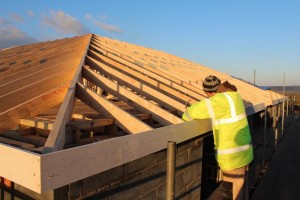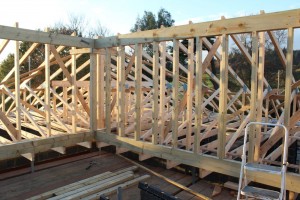 We also have a staircase installed – very minimalist!!!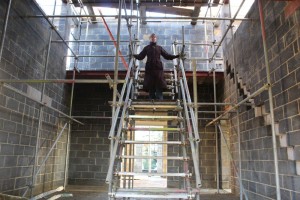 Before the Christmas deluge, the roof is tiled
[youtube]8fg0qe30ofA[/youtube]
December and Karen helps out at Utopia Forge, who are making our Juliet Balcony railings
[youtube]v5v70AohsPA[/youtube]
Today is the 30th of January and the first floor screed is down and windows are being fitted – but I think we are slipping behind the 31 March 2014 completion date.  See below for a video summary of progress to date
[youtube]0NGjucncKv4[/youtube]
13 Feb – it has rained non-stop since xmas.  The wettest January on record and we are building a house!
However, today our builders used a dry spell to top off the chimneys and start to erect the pyramid roof light.   It will look fantastic.
April to May 2014 – the final push as photographed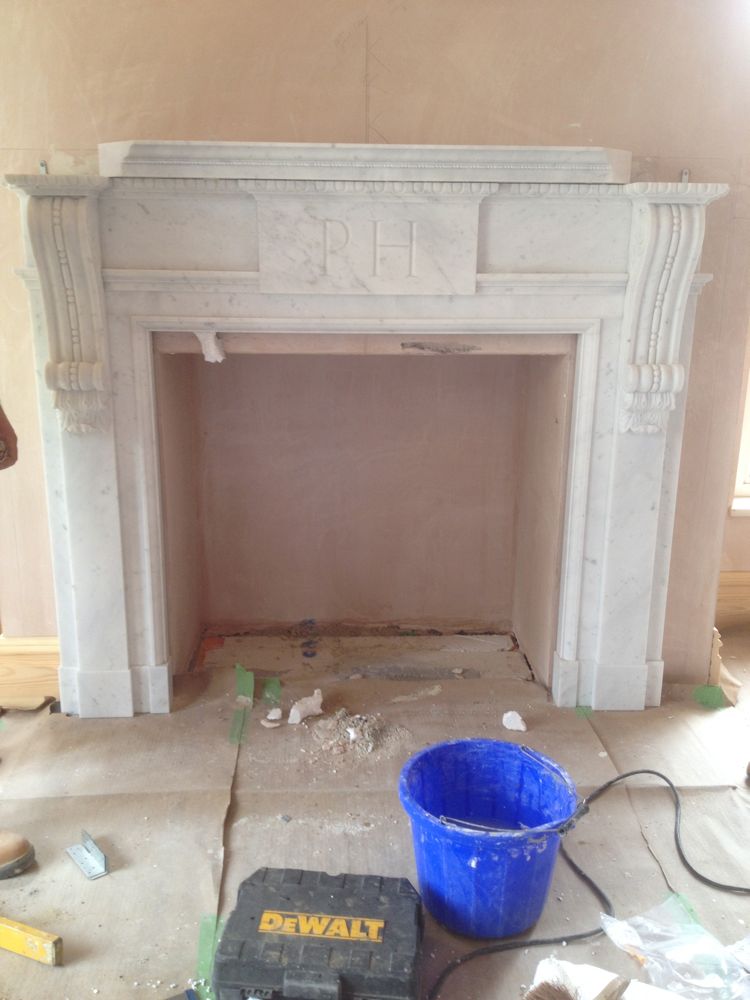 Projected move in date is now the 23rd of June!!!
3June 2014 – the hall globe light is installed with the aid of two scaffolding towers and three men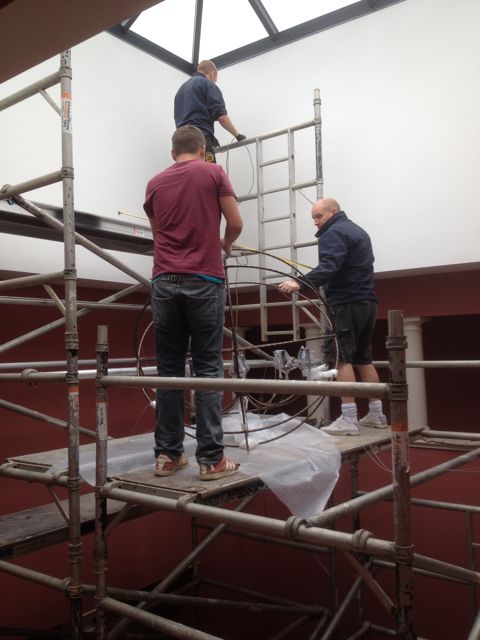 THE END – REFLECTIONS
So, in the third week of June, on budget and 3 weeks late, we actually moved into the new Park Hatch.
Reflections :- the planning system is barking mad, but don't blame the officers for this (well, do blame them but not for the complete mess!).  Work with them.
Our builders were good, but the key was having the same site manager/foreman throughout.  Graham – you were brilliant.
Designing your own house is just brilliant.  Dump the architects, get a really good structural engineer to work out how to build your design, and go for it.
Building regs are crazy but check what you are told – officers tend to say what you have to do, based only on guidelines not laws.
Get involved with every detail, on a daily basis, and avoid design changes once the build has started.
Given the choice, demolish and re-build rather than extend.  Its vat free for a start (a subsidy for us of circa £200k – thank you taxpayers) and much easier to manage.
Finally, the location is everything.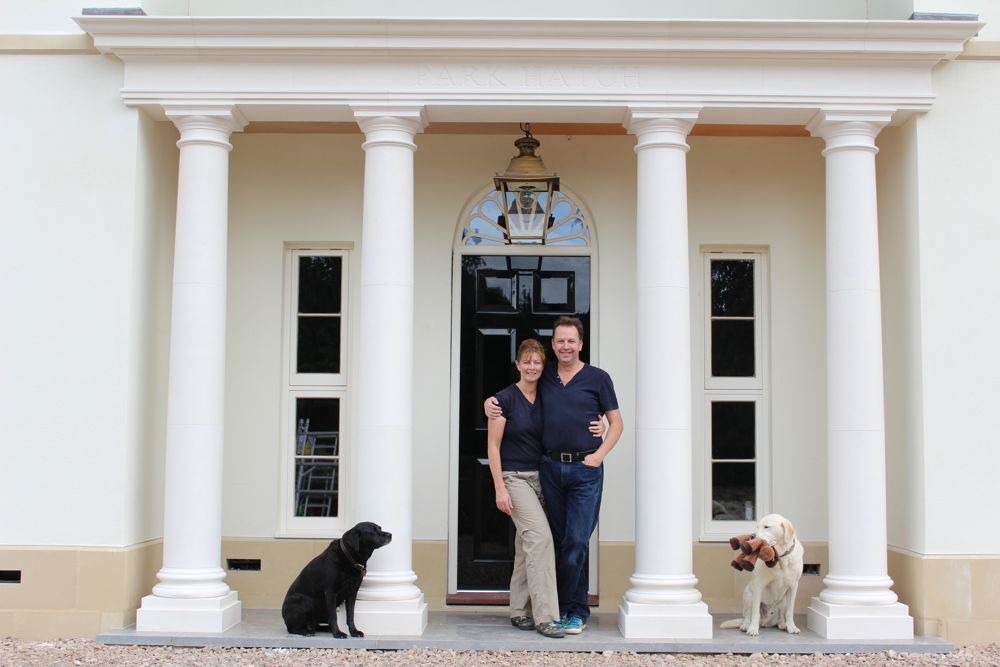 Peter and Karen – July 2014